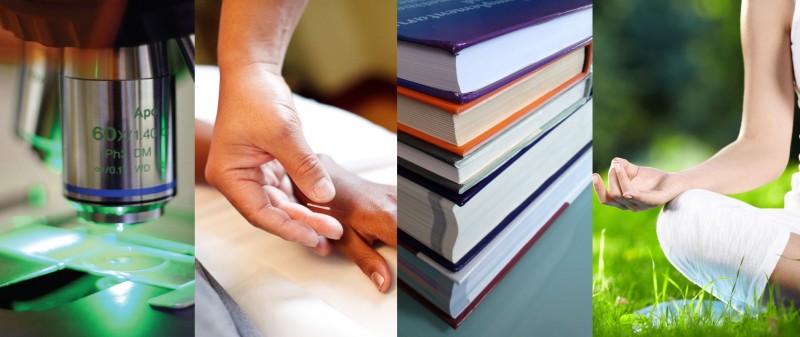 This list includes the therapies that Cochrane Complementary Medicine classifies as complementary, alternative or integrative (CAM). The table is in alphabetical order and may be browsed alphabetically or searched using Find from the browser. The development of this operational definition is described in a 2011 paper in Alternative Therapies in Health and Medicine. Some notes about this operational definition are below.
First, in order to be as comprehensive as possible, this table includes multiple categories that overlap (e.g., Chinese traditional medicine and acupuncture), and multiple terms for the same therapy (e.g., phototherapy and light therapy). For single therapies with multiple names or multiple spellings, we have given the most commonly used variant first and listed additional variants separated with a slash. However the number of individual CAM therapies (e.g., individual herbs) was impossible to capture in a single table suitable for posting. The table may also omit CAM therapies of which we are unaware. This listing therefore cannot be considered to be exhaustive, and is subject to expansion and elaboration over time.
We should also note that for many therapies, the indication for the treatment determines whether the therapy is considered CAM or not. For example, chelation therapy is considered conventional in the treatment of heavy metal poisoning but 'alternative' in the treatment of atherosclerosis. We have indicated with a parenthetical note the cases in which a therapy with both conventional and CAM uses would be excluded from the CAM category. Because vitamins, minerals and other nutrients are often used in conventional medicine, we developed general rules for considering vitamins and other supplements as CAM or not. We excluded the following types of treatments:
vitamins and other supplements that are administered parenterally in hospital settings;
dietary supplementation for treatment or prevention of medically diagnosed deficiency states or disorders; and
vitamin or mineral supplements for preventing or treating disease in countries where vitamin or mineral deficiency is widespread.
Finally, we should note that we decided to exclude from our CAM list the following types of therapies:
exercise therapies, with the exception of mind-body exercise (e.g. tai chi, yoga) or exercise that is designed to prevent mental or emotional problems (e.g., exercise for depression); and
psychotherapy, with the exception of unconventional psychotherapies (e.g. Morita therapy).
---
Açaí / Euterpe oleracea
Acupressure
Acupuncture
Acustimulation / acupoint stimulation
African prune / Prunus Africana / Pygeum africanum)
Aiyishu (a Chinese herbal medicine)
Alexander technique
Alpha-linolenic acid (ALA) (an omega-3 fatty acid) supplements
Amino acid supplements (see nutrition exclusions above)
Angelica
Anma (a type of Asian bodywork)
Anthroposophic medicine
Antioxidant supplements
Arachidonic acid (AA or ARA) (an omega-6 fatty acid) supplements
Aromatherapy
Art therapy
Artichoke leaf
Astragalus / Milkvetch (a Chinese herbal medicine)
Auricular acupuncture / ear acupuncture
Ayurveda / Ayurvedic medicine (a type of Indian (East Asian) traditional medicine)
Bach flower remedies
Baduanjin
Balneotherapy
Bee stings / bee venom
Beta-sitosterol (a component of saw palmetto)
Bibliotherapy
Bioenergetics
Biofeedback
Biofield therapies
Biofunctional diagnostic testing
Biotin (Vitamin B7) supplements (see nutrition exclusions above)
Botanical supplements
Bovine cartilage
Breathing exercises in mind-body medicine (e.g., breathwork) (exclude for physical therapy, eg treatment of cystic fibrosis)
Calcium supplements (many people would not include for prevention of osteoarthritis)
Calendula
Calorie restriction (not for weight loss)
Carnitine supplements
Cayenne
Chelation therapy (exclude for treatment of medically diagnosed heavy metal poisoning (eg, mercury or lead) and for medically diagnosed excess iron (eg, thalassemia))
Chinese herbal medicine
Chiropractic manipulation
Chitosan supplements
Chondroitin sulfate
Clinical ecology
Cold laser therapy
Colon cleansing / colon irrigation
Color therapy / chromotherapy

Coriolus Versicolor (a mushroom extract)

Cranberry
Craniosacral massage / Craniosacral therapy
Dance therapy
Danshen (a Chinese herbal medicine)
Deep tissue bodywork
Dehydroepiandrosterone (DHEA) supplements  (see nutrition exclusions above)
Dengzhanhua preparations (a Chinese herbal medicine)
Devil's claw
Devil's nettle
Devil's root / Siberian ginseng / acanthopanax senticosus / ci wu jia
Dianxianning pill (a Chinese herbal medicine)
Dietary supplements  (see nutrition exclusions above)
Dihomogammalinolenic acid (DGLA) (an omega-6 fatty acid) supplements
Dimethylaminoethanol / dimethylethanolamine / Deanol (DMAE)
Docosahexaenoic acid (DHA) (an omega-3 fatty acid) supplements
Doman Delacato patterning therapy
Echinacea
EDTA (ethylenediaminetetraacetic acid) when used in chelation therapy (see Chelation therapy above for exclusions)
Eicosapentaenoic acid (EPA) (an omega-3 fatty acid) supplements
Electrical stimulation therapy / Electrotherapy when used for pain
Electroacupuncture
Electroacupuncture according to Voll (a diagnostic method)
Electromagnetic stimulation therapy / Electromagnetic therapy (exclude electromagnetic field therapy for delayed- and non-union fractures)
Elemental diet
Energy field work
Environmental therapeutics (includes light therapies)
Essiac formula
Estrogen (exclude for treatment of natural or surgical menopause) supplements
Evening primrose oil
Expressive writing therapy / journaling therapy
Eye Movement Desensitization and Reprocessing (EMDR)
Feldenkrais
Feng shui
Feverfew
Fish oil (omega-3 fatty acids) supplements
Flor∙Essence formula / flower essences
Folic acid / folate (Vitamin B9) supplements (many people would not include for prevention of neural tube defects)
Free and Easy Wanderer (a Chinese herbal medicine)
Gamma-linolenic acid (GLA) (an omega-6 fatty acid) supplements
Garlic
Gerovital H3 (primary ingredient is procaine hydrochloride)
Gerson therapy
Gestalt therapy
Ginger
Ginkgo biloba
Ginseng
Glucosamine supplements
Glutamine supplements
Gluten-free diet
Green tea / Camellia sinensus)
Guiling pa'an wan (a Chinese herbal medicine)
Hair analysis
Helminth therapy / trichuris suis ova / Trichuris trichiura ova
Hemp oil
Herbal medicine / herbalism
High-fiber diet
Hippotherapy / equine-assisted therapy (exclude when physical therapy only)
Holistic therapy / holistic medicine
Homeopathy
Homoharringtonine (HHT) (a plant alkaloid)
Honey
Horse chestnut
Horticultural therapy
Huangqi (a Chinese herbal medicine)
Huperzine A (a Chinese herbal medicine)
Hydrazine sulfate
Hydrotherapy
Hyperbaric oxygen therapy (exclude for treatment of burns, wounds or infections, radiation injury, embolism, decompression disorders or carbon monoxide poisoning)
Hypnosis / hypnotherapy
Imagery / guided imagery
Iridology
Iron supplements
Jin Li Da liquor (a Chinese herbal medicine)
Kampo (a type of traditional Japanese medicine)
Kava
Ketogenic diet
Kneipp therapies
Krestin / PSK / PSP (Coriolus Versicolor extracts)
Laetrile
Laser acupuncture
Laughter therapy
Lentinan (derived from Shitake)
Light therapy / phototherapy (exclude for treatment of skin conditions and neonatal

bilirubin disorders

)
Linoleic acid (an omega-6 fatty acid) supplements
L-isoleucine (an amino acid) supplements
Liuwei dihuang pill (a Chinese herbal medicine)
L-leucine (an amino acid) supplements
Low fat diets
Low-level laser therapy
Low protein diets
Low-glycemic index diets
L-threonine (an amino acid) supplements
L-valine (an amino acid) supplements
Macrobiotic diet
Magnesium supplements (see nutrition exclusions above)
Magnetic therapy / magnetic field therapy / biomagnetic therapy
Marijuana, marihuana / cannabis / cannabinoids / C. sativa / C. indica (exclude for purely psychoactive uses)
Massage therapy (exclude perineal massage or uterine massage associated with childbirth)
Meditation
Mediterranean diet
Melatonin
Mesotherapy
Methylcobalamin and other cobalamins (Vitamin B12) 

(see nutrition exclusions above)

Milk thistle
Mindfulness
Moxibustion
Music therapy / sound therapy
Myofascial release
N-Acetylcysteine (NAC) (from the amino acid L-cysteine)
Naprapathy
Nature therapy
Naturopathy / naturopathic medicine
Neuromuscular therapy
Niacin / Nicotinamide/ Niacinamide (Vitamin B3) supplements (see nutrition exclusions above)
Omega-3 fatty acids
Osteopathic manipulation
Ozone therapy
Pantothenic acid (Vitamin B5) supplements (see nutrition exclusions above)
Passiflora
Peppermint
Phytoestrogens
Phytomedicines / Phytotherapy
Pilates
Plant medicines
Play therapy
Prayer
Prebiotics
Probiotics
Procaine (only when used for aging)
Prolotherapy
Propolis
Protein supplements
Psychodynamic psychotherapy 
Psychotherapies incorporating mindfulness (e.g., Acceptance and Commitment Therapy) or spirituality
Puerarin (a Chinese herbal medicine)
Pulsed electromagnetic field therapy (see Electromagnetic therapy)
Pyridoxine / Pyridoxal / Pyridoxamine (Vitamin B6) supplements (see nutrition exclusions above)
Qi Gong / chi-kung
Radiesthesia
Reflexology
Reflexotherapy
Reiki
Relaxation techniques
Riboflavin (Vitamin B2) supplements (see nutrition exclusions above)
Rolfing®Structural Integration
S-Adenosyl methionine (SAM-e)
Safflower Yellow injection (a Chinese herbal medicine)
Salacia oblonga
Salvia (miltiorrhiza)(injection) (a Chinese herbal medicine)
Sanchi preparations (a Chinese herbal medicine)
Saw palmetto / serenoa repens
Selenium supplements (see nutrition exclusions above)
Shamanistic medicine / Shamanism
Shark cartilage
Shengmai / shenmai (a Chinese herbal medicine)
Shenqi Fuzheng (a Chinese herbal medicine)
Shensu / shenfu (a Chinese herbal medicine)
Shexiang (injection) (a traditional Chinese medicine]
Shiatsu
Shitake
Shuanghuanglian (a Chinese herbal medicine)
Sidda medicine (a type of Indian (East Asian) traditional medicine)
Soy / soybeans
Speleotherapy
Spinal manipulation
Spiritual healing
St. John's wort (Hypericum perforatum L.)
Structural integration
Suxiao jiuxin wan (a Chinese herbal medicine)
Tai chi / tai ji
Testosterone
Therapeutic touch / healing touch
Thiamine (Vitamin B1) supplements (see nutrition exclusions above)
Third wave psychotherapy (see psychotherapies incorporating mindfulness or spirituality)
Tianmadingxian capsule (a Chinese herbal medicine)
Traditional African healing
Traditional Arabic medicine
Traditional Chinese medicine
Traditional Indian medicine
Traditional Japanese medicine
Traditional Korean medicine
Traditional Tibetan medicine
Transcranial direct current stimulation (tDCS)
Transcranial magnetic stimulation (TMS) / repetitive Transcranial magnetic stimulation (rTMS) (not strictly CAM when used for depression)
Transcutaneous electrical nerve stimulation (TENS or TNS)
Trigger point myotherapy
Tui na
Unani medicine / Yunani medicine (a type of Arabic or Indian (East Asian) traditional medicine)
Valerian
Vega testing
Vegan diet
Vegetarian diet
Visualization techniques
Vitamin A supplements (see nutrition exclusions above)
Vitamin B or Vitamin B complex supplements (see nutrition exclusions above)
Vitamin C supplements (see nutrition exclusions above)
Vitamin D supplements (see nutrition exclusions above)
Vitamin E supplements (see nutrition exclusions above)
Vitamin K supplements (see nutrition exclusions above)
Vojta method / Reflexlocomotion
White willow bark

Whole-body vibration therapy

Xiaxingci granule (a Chinese herbal medicine)
Yarrow / Achillea millefolium extract
Yoga therapy
Zero balancing
Zhixian I pill (a Chinese herbal medicine)
Zinc supplements 

(see nutrition exclusions above)

Zishen Tongli Jianonang (a Chinese herbal medicine)
Zone therapy