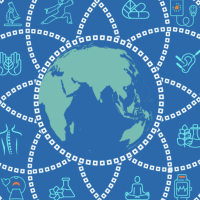 The World Health Organization (WHO) will host a Traditional Medicine Global Summit on 17-18 August 2023 in Gandhinagar, Gujarat, India. This event is the first of its kind to be held under the auspices of the WHO and will run concurrent with the G20 ministerial health meeting. India holds the presidency of the G20 for 2023 and is the host country for the WHO Traditional Medicine Centre, as well as co-host of the Summit. The theme of this inaugural event will be "Towards health and well-being for all".
The WHO has established an External Advisory Group, comprising 11 experts in traditional medicine, public health and policy and with a remit to provide strategic and technical guidance in the development and presentation of the Summit. Dr. Susan Wieland, Director of Cochrane Complementary Medicine, is co-chairing the work of the External Advisory Group. 
"An evidence-informed integration of the principles of traditional medicine into our approaches to health will promote the interconnected well-being of individuals, communities, and our planet," said Dr. Wieland, in discussing the remit of the Summit and the Advisory Group, which will include advising on technical review criteria and the development of scientific publications in its scope of responsibilities.