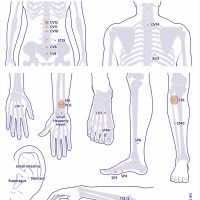 The Cochrane CAM Satellite in Switzerland recently published two papers of interest to the complementary medicine community.  
For clinicians, a new systematic review about the preventive effect of acupuncture on chemotherapy-induced nausea and vomiting could provide guidance. The review team included 38 RCTs with more than 2,500 patients, and showed that acupuncture may be beneficial for vomiting (the certainty of evidence was very low) but that the results were inconclusive for nausea. The most frequently used acupoints for chemotherapy-induced nausea and vomiting were ST36, PC6, and CV12; these three acupoints could provide a reference for clinical practice. The full systematic review and meta-analysis is now published open access in Cancer Medicine.
Researchers may be interested in another paper, recently published in the British Medical Journal, which focuses on the development, implementation, and reporting of control interventions in non-pharmacological treatments. David Hohenschurz-Schmidt set up this project with about 50 leading experts in the field of placebo research, non-pharmacological interventions, and research methods. Based on a Delphi process and consensus workshops, the review team has developed a checklist on how to set up an appropriate control condition. The team recommends that researchers consult this publication when thinking about clinical trials with sham control conditions to balance the expectations of trial participants.
Thanks to the team at the Institute for Complementary and Integrative Medicine, University Hospital Zurich, Switzerland who contributed to this work.