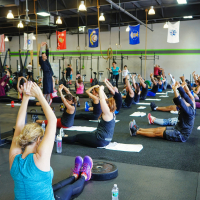 Some evidence that yoga may lead to a small reduction in pain in people with chronic non-specific lower back pain over the short term
Low back pain is a common health problem that is usually managed with self-care and non-prescription medication. When low back pain has no known cause it is termed 'non-specific', and when it lasts for three months or more it is termed 'chronic'. Chronic non-specific low back pain may interfere with daily activities and is potentially disabling. Current treatment guidelines for low back pain state that exercise therapy may be beneficial and yoga is a mind-body exercise which is sometimes recommended or used to treat low back pain.
A team of authors, based in Canada, Germany, the United Kingdom, and the United States and working with the Cochrane Back and Neck Group and the Cochrane Complementary Medicine Field, set out to review and update the evidence on whether yoga improves back-related function and pain in people with chronic non-specific low back pain. The update of this review includes 21 trials involving 2223 participants. Trial participants were adults 18 years or older who met the criteria for chronic non-specific low back pain, and studies compared yoga to any other treatment, or to no treatment for low back pain. The overall certainty of the evidence was graded as moderate, low, or very low, mainly due to the limitation that participants in all the trials were aware of whether they were practicing yoga or not. This knowledge may have influenced their interpretation of whether their back-related function, back pain, or quality of life had improved.
For people with long-lasting low back pain without a known cause (chronic non-specific low back pain), yoga is probably better than not doing exercise for improving pain and back-related function after three months of doing yoga or not doing yoga, although the improvements are small. The most common harm reported in the included trials was an increase in back pain; there was minimal information on clinical improvement, quality of life, and depression, and no evidence on work-related disability.
"We wanted to find out whether yoga improves functioning in daily life, pain, and quality of life associated with low back pain," said Susan Wieland, a researcher at Center for Integrative Medicine, University of Maryland School of Medicine, and the lead author of the Cochrane review. "Our findings suggest that yoga exercise may lead to improving back-related function and reducing back pain by a small amount. Our findings also suggest that there may be little or no difference between yoga and other back-focused exercise when looking at improvements in back-related function at three and six months." 
 
Additional information and resources:
Listen to the Cochrane podcast summarizing this review's objectives and findings - available in English and Spanish
Get an overview of the review in the blogshot: